Global Growth: How Iowa companies find success abroad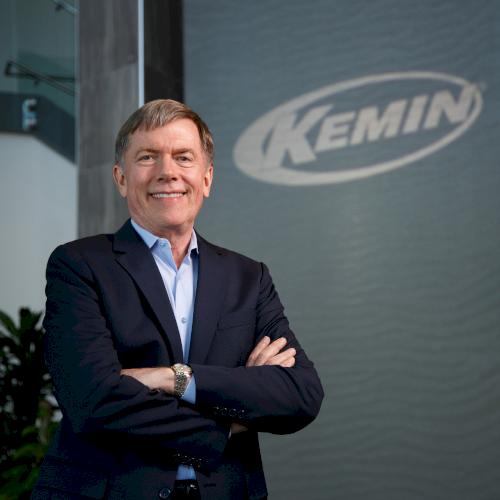 Chris Nelson, President & CEO, Kemin Industries
Iowa companies have found great success both at home and abroad, and as the global economy continues to grow and expand, look for more of the state's companies to increase their international footprint.
Company executives say growth means striking the correct balance between their domestic and international business.
Kemin Industries' international business has grown to about 50 percent. With headquarters in Des Moines, it operates in 90 countries across the globe and serves customers in about 120 countries to reach a total of about 3.5 billion people across the world.
The company's growth has occurred where there are higher levels of disposable income and in countries where the gross domestic product has grown, said Riaan van Dyk, the vice president of worldwide marketing and strategy for Kemin. The company is an ingredient manufacturer for animal health and human nutritional products. It also conducts research and laboratory work for the production of its ingredients.
Van Dyk predicted the company would continue to experience growth in countries where there is a demand to feed the population because of Kemin's production of protein products, which are important to the food supply. The company's international customers' financial health can fluctuate within a particular industry.
Rockwell Collins' aerospace, aviation and defense products and facilities can be found in 150 countries. Its global operations have grown to become about 50 percent of its business, compared with about 35 percent 10 years ago — but that percentage isn't likely to increase any further. The growth was mostly a result of acquisitions of other companies.
"I would not envision the fact that our business will be 75 percent international and 25 percent U.S. anytime soon because of the balance," said Shawn Shiley, director of global strategy for Rockwell Collins' International & Service Solutions business. "We're headquartered in the U.S. … and the U.S. will still be a very important component" of the commercial and military markets, which the company primarily serves.
The company, headquartered in Cedar Rapids, has customers that include aircraft manufacturers and airlines, as well as business aircraft that receive their equipment through a global dealer network that Rockwell Collins is part of. It also serves governments throughout the world through their departments of defense, paramilitary armed services or other governmental agencies.
Rockwell Collins' growth has taken place in countries around the world that are considered developed markets. It relies on the International Monetary Fund, an organization that works to secure and pro - mote financial stability, trade, employment and sustainable growth across the globe, to assess the current status and projected growth of economics domestic and abroad, Shiley said.
Internationally, a lot of Rockwell Collins' growth has occurred in those markets where the local economy has strengthened. The company began increasing its business in China, for example, in the late 1980s, when the economy there began to grow.
While the global economy has strengthened and grown beyond the original four or five big economies, there have been some growing pains, Shiley said. Some countries, Brazil, for example, were not prepared for rapid growth, which can cause instability and even an economic slump. The country is now considered to be in recovery.
Accumold, headquartered in Ankeny, ships almost 60 percent of its molded components outside of the United States to 23 countries across the globe. As portable electronic devices have become smaller, more international customers are turning to Accumold to create micro-components for these devices, said Roger Hargens, chief executive officer and president of the company.
Despite its booming international business, Hargens said the company will remain in Ankeny because it's cheaper to operate its facilities there.
"We are very competitive and innovative. That's the reason we stay here and compete there," he says of the overseas market. Emerson-Fisher, which makes automation products and valve components, has its Fisher business global headquarters, global engineering center and a manufacturing plant in Marshalltown, but more than 60 percent of its business is in other parts of the world. That's largely because of the nature of the company's customers: oil and gas and power industries, most of which are global.
Emerson-Fisher also has clients who operate chemical and plastics processing plants.
"Essentially, we have people and plants and engineering in almost every country in the world," said Terry Buzbee, group president of Final Control, which is part of the Emerson corporate organization.
The growth that Iowa's companies have experienced is based on several factors: the size of the population of countries in which they do business and whether that population is increasing or decreasing; the natural resources the country has; the country's gross domestic product; and the stability of the country's government or the likeliness of regional conflicts.
Shiley said Rockwell Collins will continue to increase its operations in the government market as more countries develop or there is regional conflict and governments enhance their defense capabilities. He anticipated growth in the Middle East with recent acquisitions, though that growth will likely be slower with those countries' dependence upon oil. Growth also will occur in countries that are beginning to prop up their commercial aviation or bring airlines to their country, he said.
Accumold's business will continue to grow as more devices need smaller molded parts. In a recent two-week period in June, the company hosted representatives from the Philippines, France and Scotland, who were all interested in learning about the company, its innovation and its workforce.
Hargens said he foresees a continued focus on American manufacturing and more U.S. manufacturers being asked to do business and make products that will be shipped elsewhere in the world.
"We're competitive in the U.S.," he said. "They see the results of us getting their needs met. There seems to be a real willingness with the global companies to increase manufacturing within the U.S. I think this trend will stay strong over the next several years. A lot of (business) is coming back, and it's becoming high-tech."
Buzbee said Fisher's growth is down in the oil and gas market as oil prices have dropped. The company does some work in the mining and pharmaceutical markets. Growth will continue in countries such as China that have old pow er plants that need to be updated or replaced. As the standard of living increases in other countries, such as India, he said those countries will have increased needs for power, vehicles, fuel and more, which means more business for Emerson-Fisher.
"We see a lot of demand for where they have old technology facilities," Buzbee said. "One of the trends that's always good for our industry is the standard of living im - proving around the world." 
This demand internationally will require more engineers at the global engineering facility in Marshalltown, he said.
Kemin has nine facilities worldwide that employ local residents of those countries and buy local products for use in the company's ingredients.
"We are a global business, but we act local," van Dyk said.
This has led to stronger relationships between Kemin and its international customers and partners because it has created a level of transparency about where ingredients come from, who is involved and what is inside a product. 
Because of the company's model, van Dyk said it is well positioned to respond to changes in the global economy with its various facilities in multiple countries and the different lines and industries in which it does business.
Kemin's business can be affected by political unrest and trade agreements; however, because the company's model is to be located within the country and buy and hire locally, it isn't as affected by businesses that import or export products out of the country, van Dyk said.
However, he said he thinks the appointment of former Iowa Gov. Terry Branstad as the ambassador to China will help Iowa businesses continue to grow, including Kemin.
Cindy Dietz, the director of business communications for Rockwell Collins, said the company wants to ensure that U.S. companies have a level playing field when it comes to global trade policies and that they have the same ability to export and import products.
"From our perspective, to have the opportunity to design, build and sell our products across the world where your customers want them is an important thing for Rockwell Collins, and we're constantly working with elected officials to have policies that enable that," she said.
Because it only has a production plant in the United States, Accumold heavily relies on its export business. Hargens said free trade and international trade have to be fair for the vitality of U.S. advanced manufacturing.
"One country can't leverage huge import duties and another country virtually nothing," he said.
Buzbee said President Donald Trump's tagline "America First" could create a chain reaction around the world with other countries taking on the same approach.
"You have a little bit of this protectionalism, this de-globalization," he said. "Everybody is going to put their own country first and be more protected."
Emerson-Fisher likely won't be affected, Buzbee said, because the company already has facilities in other parts of the world at which it hires local employees and buys local supplies and from which it ships products.
Executives characterized the global economy as good and said most of their international customers have strong financial health, though there are some exceptions.
"It's fairly good around the globe, as far as the growth perspective," Shiley with Rockwell Collins said. "There's always peaks and valleys. Markets change and move around a little bit, but by and large, those markets have been trending positive for us."
Hargens said Accumold's customers who have strong business are the ones who have remained innovative, and that he expects that growth to continue within the health care industry as more medical devices need micro-components.
He views the overall global economy as good, especially for those nations such as the United States that have lower energy costs. The advanced manufacturing business is strong and getting stronger with the United States leading, he said.
Emerson-Fisher's oil and gas customers have been stressed because of the drop in oil prices, but some of their business is beginning to recover and rebound, Buzbee said. The power industry is stable, and the chemical industry is dependent upon demand, but overall, he said the company's customers have stable financial health. n