Women in Manufacturing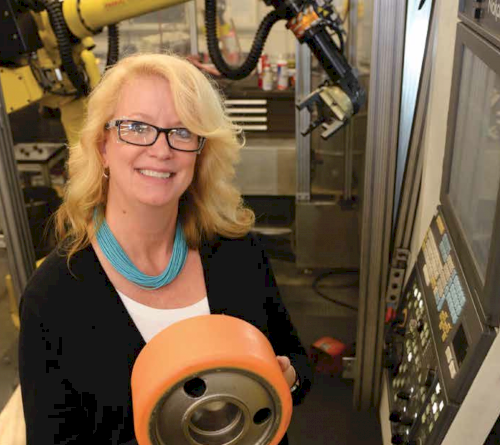 Dr. Mo Lockwood was one of only two female students in her engineering class at the University of Iowa. She has seen the number of women in manufacturing grow substantially over her career.
Manufacturing for years had been viewed as a dirty, tough job that was primarily for men.
That image has changed with advancements in technology, safer working conditions, and marketing to attract both youth and women to the industry.
Several women are at the helm of major manufacturing facilities in Iowa and have helped transform the image of the industry from once a "man's world."
"I haven't felt held back because I'm a female, and I know many other females who run manufacturing companies," said Sherri Hotzler, president and chief executive officer of Vantec Inc. in Webster City, who came to manufacturing from a career in cosmetics and pharmaceutical sales and merchandising. Her parents started Vantec in 1983, and she had worked in the plant running injection molding machines as needed when she was in high school.
Mo Lockwood, the manufacturing manager for Thombert Inc. in Newton, was one of two female students in her engineering class at the University of Iowa. When she looked back on those days, she recalled how small the percentage of women in engineering and manufacturing was but remarked on how much it has grown.
"It used to be a novelty of how I got hired," Lockwood recalled. "Everyone was curious about the female engineer, and there was a lot of emphasis on me being a female engineer...But pretty soon it became that I was judged on my abilities, capabilities and results. It became a non-issue pretty quick."
Recruitment of youth, women important to industry
A high school career counselor encouraged a then-teenage Lockwood to consider engineering as a career because of her interest in math, science and shop class.
"I really had no idea what engineers did, but I knew they made good money," Lockwood said.
The summer before her senior year, Lockwood became sold on engineering as a career when she was invited to participate in an engineering program at Notre Dame University. She was drawn in by the way employers worked with equipment and found new ways to improve efficiencies and optimize systems.
It's a fascination she still has about manufacturing today.
"It's challenging and interesting work," Lockwood said. "It's engaging and all about problem solving: something to help a customer's needs or an employee's needs to make it safer or easier to work. There's always a new opportunity or new things to work on."
She received a bachelor's degree in industrial engineering from the University of Iowa and started her career as an industrial engineer at Rubbermaid in Centerville. Through the years, she worked to find new ways to make layouts and product flow more efficient as a division project engineer and managed various departments within the company.
She later went to work at Thombert Inc. in Newton, where she has been the manufacturing manager for 18 years. She serves as one of four members of the company's leadership team.
Sarah Dvorak took the minimum number of manufacturing classes that were required for her mechanical engineering degree from Iowa State University.
"I thought I didn't want anything to do with manufacturing," said Dvorak, vice president of operations for Kreg Tool Co. in Huxley.
That quickly changed as she began her career at Fisher Controls International in Marshalltown. Once she learned more about manufacturing and saw the challenges and the problem-solving skills required, she was hooked. She liked the speed of the work and thought it better utilized the engineering skills she had and what she enjoyed about engineering.
"I really enjoyed going to the shop floor and asking (the employees) what was causing a problem and reworking it," Dvorak said.
She said it's important to inform young women in high school about career opportunities they could have in the science, technology, engineering and mathematics areas (STEM). As young women are encouraged to pursue those subjects, more will come to manufacturing.
Because of Lockwood's internship experience, she understands how important it is that teens receive hands-on and visual experience when it comes to engineering and manufacturing, so they can see firsthand how it works.
Thombert is actively involved with the Newton school district to share information about manufacturing jobs and to hire teachers during the summer and provide them with experience to share in the classroom.
"We spend a lot of time doing activities with the schools so they can see manufacturing, learn about the job opportunities and see both the women and men at Thombert, and maybe help them understand it's not this old stereotype of men and ugly work and tough work," she said. "I think that's been very effective."
For example, Thombert has moved more of its machines and heavier work to automation to benefit all employees, Lockwood said.
"No one, whether man or woman, should have to exert their body," she said. "We have many long-term employees whose shoulders are worn out, and physically, it's taken a toll on them. We're not automating to attract more females, we're automating because it's the right thing to do."
Hotzler agreed that STEM careers need to be promoted in school districts and that students need to receive tours of manufacturing companies and learn about the new technology with robotics and other things that would pique their interest.
"College might not be for everyone," she said. "They could get out sooner and make money in manufacturing and STEM (careers) rather than get out of college with a lot of debt."
Tables turn as more women enter the industry
Lockwood estimated 5 percent of workers were women working in various capacities when she arrived at Rubbermaid. That number had in- creased to 45 percent by the time she left the company. About 20 percent of the employees at Thombert are women, but that number continues to increase, she said.
"There's still such an opportunity for us to get even more women, and we think it's important because of the unique perspective that women bring," Lockwood said. "I think everybody has different needs and perspective and viewpoints, and I think it makes us that much richer in collaboration when we have women and men and people of different cultures working together."
At Dvorak's first job, about 10 percent of the workforce were women. That number grew to about 20 percent at her second position, and is now about 40 percent at Kreg. The number of women in manufacturing will continue to grow as more women enter the engineering field and assume management positions at companies, she said.
The Women's Business Enterprise National Council certified Vantec as a Women's Business Enterprise at a customer's request, Hotzler said.
At the time the company went through the process, it had more women working for Vantec than men, which was a coincidence. As a result, the company was featured in the trade publication Plastics News in a feature called "Women Breaking the Mold."