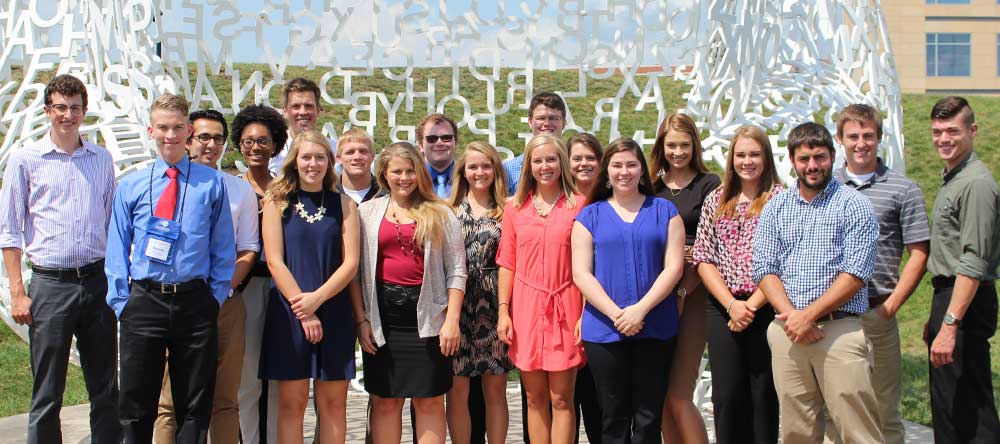 About
Leadership Iowa University (LIU), a program of the Iowa Association of Business and Industry Foundation, is uniquely designed to bridge the gap between college and career, and assist undergraduate college students along their path to personal and professional success.
This weeklong program seeks to cultivate and develop our state's future workforce by equipping them with diverse knowledge, skills and perspectives that will allow them to achieve their personal goals and build bright futures as engaged leaders. The LIU experience not only fosters personal growth and leadership development, but it also open doors to new ideas and opportunities within our state.
August Session (August 4-8, 2019 – Des Moines & Surrounding Areas)
20-25 college students come together in Des Moines, Iowa, for this five-day residential program filled with personal reflection, experiential learning, relationship-building and more. The program allows students to gain first-hand experience of issues and opportunities in Iowa, and introduces participants to top-notch professionals.
Throughout their week, participants will:
Participate in a strengths assessment and debrief with a certified strengths coach
Visit a variety of organizations and learn about Iowa's top industries
Hear from dynamic speakers with unique perspectives on relevant topics
Experience life as Iowa entrepreneurs, civic leaders and more
Connect with Iowa professionals at roundtable discussions and networking events
Fine-tune their career-readiness with HR professionals
In just five days, students have the opportunity to connect with more than 80 Iowa professionals with diverse backgrounds. The connections made with professionals, as well as relationships built with one another, often have a lasting impact on participants.
Mentorship
Following their LIU week, participants have a great opportunity to be paired with a mentor to connect with throughout the remainder of their school year. Mentors are Iowa professionals who currently work in the student's career field of interest, and are carefully selected to have qualities or experiences that match well with each students' personality and goals. Mentors donate their time to meet with students monthly throughout the school year and assist by providing guidance, direction and awareness of opportunities to students as they prepare for life after college.
Young Professionals of Iowa Conference & Additional Events
Participants will be invited to reconvene at the Young Professionals of Iowa (YPIowa) Conference, typically held in late September. Each year, the YPIowa Conference is a can't-miss event for young professionals in our state, and includes a full schedule of valuable break-out sessions, dynamic speakers and fantastic networking opportunities. The ABI Foundation is a proud partner of YPIowa.
Due to their participation in the program, LIU alumni will have access to ABI and ABI Foundation resources, as well as one of our state's largest networks. Alumni will be notified of additional professional development opportunities and events well after their participatory year.
For more information on the application process, as well as cost of the program, click here. For additional questions or to discuss the program further, please feel free to contact us.