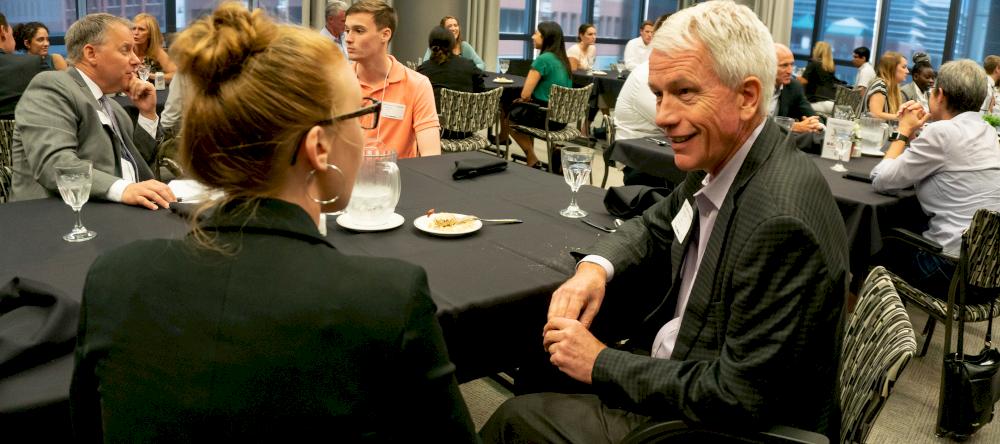 Get Involved
The Leadership Iowa University program would not be possible without the help and support of individuals and organizations across the state. There are multiple ways to make a difference and get involved through Leadership Iowa University.
Nominate Future Participants
It can be easy for busy college students to miss out on unique opportunities that benefit more than just their technical skills. Many program alumni may not have had the opportunity to participate without first being nominated and made aware of the program by friends, family member or employers. Do you know a forward-thinking college student who would benefit from this experience? Nominate a student for the upcoming program online here.
Become a Volunteer or Mentor
The ABI Foundation is always looking for volunteers with a passion for developing our state's future workforce. Opportunities include serving on the board or planning committee, joining the group during their week as a guest speaker or networking reception attendee, hosting a business visit or becoming a mentor. Students are paired with mentors during the school year as a way to connect them to a positive role model who can provide advice for them as they prepare to take the next step in their career.
Partner with Leadership Iowa University
Leadership Iowa University has become an integrated component of multiple college and internship programs. Colleges show support of their students by offering them the opportunity to attend, while companies invest in future employees by including LIU as a capstone to internship programs. ABI Foundation staff are happy to work with any college or organization in order to implement Leadership Iowa University into their curriculum.
Become a Program Sponsor
Leadership Iowa University is annually supported by companies, colleges/universities and individuals who help drive the mission of keeping our talented young people in our state. Sponsors are offered a range of options and benefits to support the program and its participants. Most importantly, funds raised allow the student's participation fee to remain significantly lower than the actual cost of the program. View this year's top program sponsors online here. To learn more about sponsorship opportunities, please contact us.
Contact us to find out more about volunteering or partnering with Leadership Iowa University. Additional volunteer opportunities also exist with the ABI Foundation's high school and adult leadership programs. To learn more about how you and your organization can get involved with these programs, please visit Business Horizons and Leadership Iowa.