Be Part of an Incredibly Special Iowa Story
August 23, 2018 | Sage Rosenfels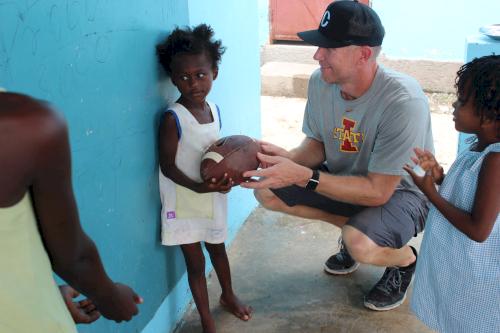 Retirement from the NFL in 2012 presented me with the question: how do I spend the "second half" of my career?
In addition to focusing on my three kids, my other priority has been giving back. With football in the rearview, I was able to reconnect with a friend from my hometown of Maquoketa, Iowa. That friend, Patrick Bentrott, had become deeply involved in a small non-profit called the Foundation for International Development Assistance, or FIDA, which creates agriculture co-ops, sustainable farming practices and literacy programs in Haiti. He and his wife had also adopted two Haitian children.
I wanted to help. For me, that meant throwing a backyard barbeque to raise some money and sharing about his work on social media. And my social media post about his work in Haiti caught the attention of Emily Schmitt at Sukup Manufacturing.
Many of you are already familiar with the Sukup Safe T Home®. Since Emily messaged me about it on social media, I've learned a lot about this incredible product. I visited Sheffield last winter to check out the Safe T Home®, and what I saw blew me away. Just a few weeks ago, I had the opportunity to go to Haiti with Sukup and help build a Safe T Home®. The experience was eye-opening and personally transformational. And hot.
What strikes me most about the Safe T Home® is its incredible efficiency—only six hours to construct, can easily be torn down and moved, will last for 75 years, and most importantly will resist earthquakes, hurricanes, fire, termites and machetes. It's an amazing invention and solution to housing issues around the world.
Sukup and its non-profit partner GoServ Global have a unique and fun opportunity to share the Safe T Home® story on the largest stage in Iowa, the Cy-Hawk™ football game at Kinnick Stadium on September 8. I'm proud to be leading a team of former student athletes along with my friend Tim Dwight as we build a Safe T Home® in real time. Those of you who attended the 2018 ABI Conference should be familiar with Kinnick Stadium, and we invite you to stop by the statue of Nile Kinnick immediately south of the stadium. Tim, myself and some of your favorite athletes like Greg Brunner, Jeff Horner, Naz Long, Jack Whitver, Jadda Buckley, Dallas Clark, Jess Settles and more will be constructing the home, and we would love to see you there.
What has encouraged me to get personally involved in promoting the Safe T Home® is that it is part of an incredibly special Iowa story. When I grew up, a lot of really good-paying manufacturing jobs left my hometown of Maquoketa. I saw the negative impact that losing these jobs had on my community. I appreciate Sukup's efforts as a family-owned company with roots in the community to supply hundreds of jobs in Sheffield and the surrounding area. Companies like Sukup and its creation of good-paying jobs are critical to keeping rural Iowa communities alive. And the manufacturing workers who hold these jobs, some of whom I've met in my several visits to Sheffield, get to create products that both keep the world's grain safe and keep people safe, too.
I believe this is just the beginning of great things for the Safe T Home®, and I'm glad to be part of the team.
Sage Rosenfels, a father, philanthropist and football commentator, lives in Omaha, Nebraska. He was the starting quarterback for two seasons for the Iowa State Cyclones, and most notably led the team to its first bowl game victory in the 2000 Insight.com Bowl. The Washington Redskins drafted Rosenfels in 2001, and he went on to play with the Miami Dolphins, Houston Texans, New York Giants and Minnesota Vikings over his 12-year career.
For more information, visit www.SafeTHome.com and www.fida-pch.org.