Celebrate the 100th Anniversary of Iowa's State Parks
February 13, 2020 | Gerald Schnepf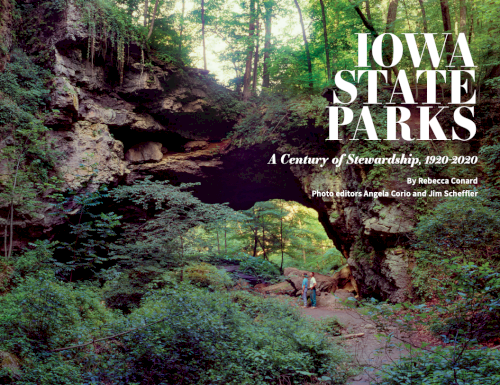 The heritage of Iowa's state parks, in a large part, owes its existence to business leaders in Iowa that recognized the importance of both preserving these special areas and providing their customers and community members with refreshing time away in beautiful natural settings and recreational pursuits for the family. In many cases, it was the local business community that supported and worked with local citizens to acquire and develop these nearby 91 state park areas. 
Transportation at the time was not what it is today, so the parks had to be spaced to serve the largest number of Iowans without undo expense and time to get to them. About the same concept that we have again today. We are coming full circle in recognizing the need for short trips and wonderful natural areas.
These special areas are important to each of us psychologically. They are critical to fulfilling our culture, and on top of that, support the diversity of Iowa's economy.
2020 represents the 100th anniversary of Iowa's state parks—with the first state park being Backbone State Park near Strawberry Point. The Iowa Parks Foundation was established a number of years ago to support both the state and local park systems. From that Foundation a small group formed the CCC—Centennial Celebration Committee consisting of Mark Ackelson (former director of the Iowa Natural Heritage Foundation), Kevin Sczodronski (retired director of Iowa State Parks), Ann Raisch (a devoted state park supporter from the Eldora area) and Gerry Schnepf (founder of the Iowa Natural Heritage Foundation and of Keep Iowa Beautiful, and a former member of ABI). 
These four dedicated Iowans have been at work for almost three years in developing ideas and concepts to involve Iowans in the celebration and to increase awareness of these special places.
Some of the ideas from the Centennial Celebration Committee to date are:
Logo development with design support from RDG for the Iowa Parks Foundation efforts. Please feel free to use this logo to identify your support. The Iowa DNR has also developed a centennial logo. Please contact the agency for approvals for usage.
A menu of 100 ideas and ways that citizens, organizations and communities can join in the celebration.
A guide and checklist to help entities organize for those events.
A vintage car tour with a Model A to all 91 of the state parks utilizing Iowa's Scenic Byways throughout 2020. Citizens are encouraged to join in the tour and to support tour events at the state parks.
Development of a commemorative, 290-page coffee table type of book that becomes a benchmark for the state park system. This has been assembled by some of the finest writers, designers and photographers in the state. The University of Iowa Press produced the book, and it will be available in March 2020. It deserves to be in your reception areas, local libraries, care centers and other key locations in communities. Advance purchases can now be made on the University of Iowa Press website. 
Thanks to the business community for your continued support of the "jewels" of Iowa's most significant cultural and natural treasury.