How Solar Energy is Helping One Iowa Manufacturer Hire and Retain Top Talent, Reduce Operating Costs, and Stay Ahead of the Competition
October 17, 2019 | Troy Van Beek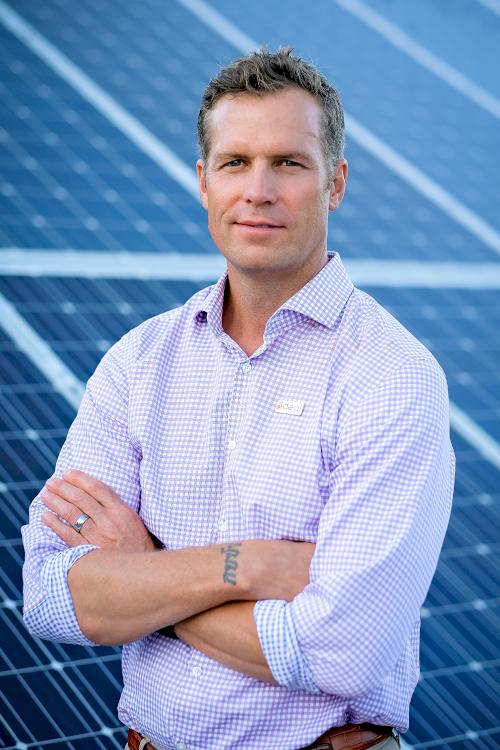 In his book On Competition, Michael Porter wrote that, "Competitive strategy is about being different. It means deliberately choosing a different set of activities to deliver a unique mix of value." If your company has a strategy, as opposed to what Porter called operational effectiveness, you can build higher barriers to competition by creating a unique position for yourself. This can yield higher profits than operational effectiveness-based approaches.
The advanced manufacturing firm Agri-Industrial Plastics Company (AIP) of Fairfield, Iowa, is taking this approach with a future-facing energy initiative. The company is using a new on-site power plant featuring a combination of solar energy and a Tesla Powerpack battery system to reduce operating costs, attract top hires and gain competitive bids by staking out a cutting-edge, sustainability-focused position.
Solar & Storage: An Operating Cost Advantage
Peak demand charges make up the most expensive part an energy bill. For large consumers of electricity including Iowa's manufacturing and industrial operations such as AIP, demand charges can account for 30%-70% of a monthly utility bill.
The most effective way to manage utility costs for demand charges is a practice called peak shaving. Peak shaving involves proactively managing overall demand to eliminate short-term demand spikes, which set a higher peak. This process lowers and smooths out peak loads, which reduces the overall cost of demand charges.
AIP's peak shaving power plant features a 517 kW roof-mounted solar array that works in tandem with a 212 kW Tesla Powerwall battery energy storage system. During the day, the solar panels generate energy which charges the Powerwall and powers the company's advanced manufacturing operations. The battery system runs on an artificially-intelligent control system to automatically discharge at times of high energy usage (or peak demand) to avoid or reduce costly demand charges. This power plant gives AIP greater control, efficiency and reliability in managing expensive electrical peaks, while predictably reducing operating costs.
A recent report from the National Renewable Energy Lab identifies Iowa as one of the top states in the nation poised to benefit from peak demand reduction due to high demand charges for our largest electric users. With 6,000+ manufacturing businesses in Iowa representing more than 18% of the state's GDP, AIP is setting the example for how our state's manufacturing industry can control energy costs and increase sustainable business practices with advanced energy technology.
Sustainability Initiatives Attract Top Talent and Millennial Workers
Sustainability is especially important among Millennial employees, who became the largest generation in the U.S. labor force in 2016. According to Forbes, green technology is among the top four things Millennials seek out from potential employers. Around 90% of Millennials, 84% of Gen Xers, and 77% of Baby Boomers say sustainability is a core value they consider when choosing a job. "We're really focused on being the employer of choice in the region," said Lori Schaefer-Weaton, president of AIP. "This solar array is like a giant billboard that says, 'Guess what? This is not your old-school manufacturing building.' It's not dark, it's not dingy, it's not unsafe. It's technical, it's looking forward."
The solar and storage installation will form the foundation of a comprehensive sustainability policy currently under development at AIP. "I would consider it a strategic investment for our future," said Lori, who is confident that the array will attract new hires.
Sustainability Scorecards
Many manufacturers and other suppliers are subject to sustainability evaluations by their customers. For example, in 2009 Walmart created a 15 question Sustainability Index and asked nearly 100,000 suppliers to respond. Walmart uses the Sustainability Index to reward high-scoring suppliers.
AIP and many of our manufacturing customers are evaluated for their sustainability efforts. Earning top marks on these scorecards is often one of the motives behind a decision to move forward with renewable energy programs. Sustainability scores usually include some form of carbon reduction or renewable energy component, so solar energy is among the best sustainability interventions that manufacturing operations like AIP can make to earn a higher score.
Sustainability as a Strategy
Agri-Industrial Plastics Company is leading by example. Recognizing the potential of solar and storage to reduce costs for Iowa's manufacturing industry, AIP and Ideal Energy partnered with the Iowa Economic Development Association (IEDA) and Fairfield Economic Development Association (FEDA) on Iowa's first energy storage research grant studying the performance and applications of the technology used in the peak shaving power plant. The technical details about AIP's power plant are outlined in a white paper produced as part of the grant. Additionally, the Iowa Environmental Council recently honored AIP with an Innovation Award for taking a leadership role in energy technology solutions for Iowa's manufacturing industry.
Iowa businesses that invest in solar energy before their competition does have the upper hand. These businesses can take advantage of higher tax credits (which start stepping down after this year), the recruiting and marketing punch that comes with being an early adopter, and extra months or years of compounding savings that can be reinvested in growth. Every day you have these advantages and your competitor does not, you put more distance between your company and your competition.
Troy Van Beek is the Founder & CEO of Ideal Energy and can be reached at troy@idealenergyinc.com.
Learn more about Agri-Industrial Plastic Company's power plant and download the white paper here.