ABI team bringing A game for 2016 conference
March 9, 2016 | Emily Schettler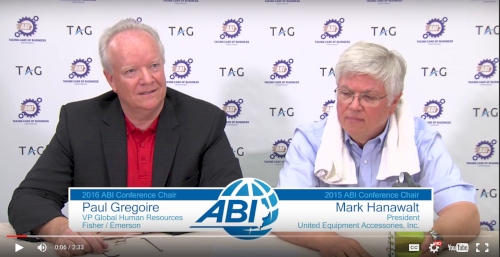 It's basketball tournament time. Across Iowa and across the country, teams are preparing for the post season. At ABI, we're preparing, too. We're bringing our A game to provide the very best Taking Care of Business Conference in 2016. 
Last year, then-ABI Chairman Mark Hanawalt, President of United Equipment Accessories, helped deliver one of the best events yet.
Work is already well underway for the 2016 conference June 14-16 in Sioux City. 
Under the leadership of our 2016 ABI Chairman Paul Gregoire, Global Vice President of Human Resources at Emerson/Fisher, this year's conference is sure to take the crown as the state's premier business event.
Watch Hanawalt and Gregoire recap last year's event and look ahead to 2016.
ABI members received their e-invitations this week for the 2016 Taking Care of Business Conference. Register NOW to make sure you can sign up for your top Educational Escape choices and favorite alternate activities before space fills up!
Make your hotel reservations today – two of our conference hotels are already sold out!
Thank you to our friends at TAG Communications for helping us put together this fun skit.