At Business Horizons, learning spans generations
May 12, 2016 | Emily Schettler | eschettler@iowaabi.org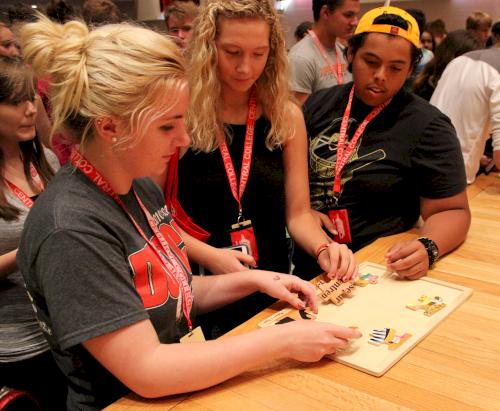 Note: The ABI Foundation currently is accepting applications for the 2017 session of Business Horizons, June 25-29 at Central College in Pella. Those who apply by April 20, 2017 will receive a $60 discount, followed by a $35 discount until May 10. LEARN MORE & REGISTER
After volunteering as an industry ambassador at Business Horizons for four years, Gina Vitiritto-Robinson knew her 16-year-old son Nico Robinson would enjoy the experience, but like most participants, the high school student just weeks into his summer vacation needed a little convincing.
"At first I really didn't want to come, but I knew it would look good on a college application," Nico said. "It turns out it was a lot of fun and a great experience. I enjoyed it a lot."
The mother-son pair joined more than 100 high school students and about 100 volunteers at the weeklong business boot camp in July 2015 on the Central College campus in Pella. It was the 32nd year the Iowa Association of Business and Industry Foundation has put on the Business Horizons program, which provides students an opportunity to create their own product, develop a business and marketing plan for the product, and even pitch it to a panel of investors.
"This is a one-of-a-kind opportunity for students to experience first hand the world of business and leadership and the career opportunities available to them in Iowa," ABI Foundation Director Kay Neumann-Thomas said. "Students are really challenged to get out of their comfort zone and work as a team. We are blown away each year by the projects they put together."
Vitiritto-Robinson, human resources manager at Prairie Meadows, was first introduced to the ABI Foundation when she participated in Leadership Iowa in 2008-09. She volunteered for Business Horizons for the first time in 2009 and was immediately hooked.
"It's one of those programs that lures you in and you don't want to ever leave," she said. "For me, it's the energy of the kids. They teach me as much as I'm teaching them. I feel so strongly and passionately about this program and what it offers kids."
For Nico, the experience offered new friendships he won't soon forget. "It's a really good experience to actually meet kids from different parts of the state and get to know them on a personal level," he said.
A speech by Business Horizons alumnus Adam Carroll helped to reinforce good money habits that Nico's mom has been working to instill.
"He told us to save money instead of spend money, and it actually put a lot of things into perspective and I'm excited to do that," Nico said.
In addition to the financial literacy the program promotes, Vitiritto-Robinson said she enjoys seeing the motivation and determination participants walk away with.
"It gives them the courage, the drive the passion to really dig for and figure out what it is they want to be when they grow up," she said. "I think it's one of the hardest things you try to figure out as a young person. I wish I'd known about Business Horizons as a student."
This article first appeared in the August 2015 issue of Business Record Iowa.