"Giving Back" Conference Theme Inspires Charitable Partnership
October 5, 2017 | Emily Schmitt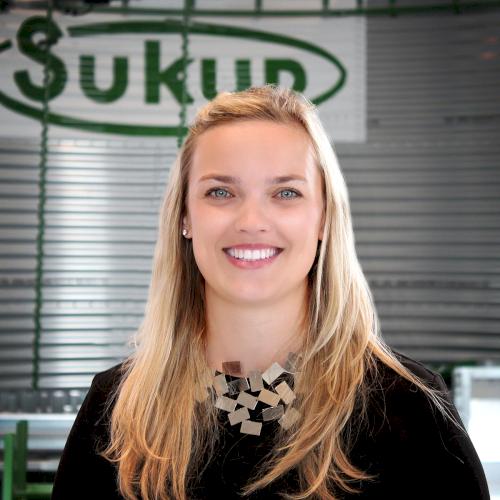 In early 2016, the Iowa Association of Business and Industry was planning its annual conference and invited proposals for speakers around that year's theme, "Giving Back." Here at Sukup Manufacturing, we like to say that giving back is "inGRAINed" in our culture, and I immediately decided to submit a proposal to present about the Sukup Safe T Home®.
The Sukup Safe T Home® is a grain bin modified into a hurricane-, earthquake-, and termite-proof 254-square-foot home. The home features a lockable door and a ventilated roof, and is designed to stand for 75 years. Sukup Manufacturing first began producing the Safe T Home® in 2011 in response to the earthquake that devastated the country of Haiti. The company has worked with its partner, GoServ Global, to distribute 280 homes to date. The 200 homes currently located in Haiti withstood 145-mile-per-hour winds during Hurricane Matthew in 2016 with minimal damage.
Not only did ABI accept my presentation about our Safe T Home®, but they selected me to speak during a lunch at the conference! It was an incredible opportunity to tell the Safe T Home® story to such a large audience of leaders in business and industry.
After the presentation, conference attendee Kevin Ekstrand approached me to talk more about the Safe T Home®. Kevin was in Dubuque on behalf of Scarbrough International, a company that provides full-service logistics to international and domestic supply chains, and is Iowa's only Licensed Customs Broker. It has offices throughout the Midwest, including a local office in Des Moines. My presentation had resonated with him, and Kevin immediately saw an opportunity for Scarbrough to use its expertise to transport Safe T Homes® to their final destinations in countries vulnerable to natural disasters.
Scarbrough leadership quickly got on board. In late August, just two and a half months after Kevin first heard my Safe T Home® presentation at the ABI Conference, he found himself driving from Scarbrough's headquarters in Kansas City to Sheffield to finalize the details of the Sukup-Scarbrough charitable partnership.
Our two companies have some cultural similarities. Both are family owned and operated. Both have Midwestern roots. And both emphasize values and foster a culture of giving back. By utilizing each company's expertise, Sukup Manufacturing and Scarbrough International are working together to put the ABI theme of "giving back" into action.
As we approach the one-year anniversary of Hurricane Matthew and have seen the incredible devastation by natural disasters in recent weeks, our companies are stepping forward to provide safe homes for families around the world.
We invite you to join us in giving back. To support the Safe T Home® project, visit www.goservglobal.org/give.
Editor's Note: Save the date! Mark your calendars for the 2018 Taking Care of Business Conference, June 5-7, in Iowa City/Coralville.
Emily Schmitt is general counsel at Sukup Manufacturing Co., located in Sheffield, Iowa. For more information, please visit www.sukup.com or contact Emily directly via email at eschmitt@sukup.com.