6 ways to promote voting at your business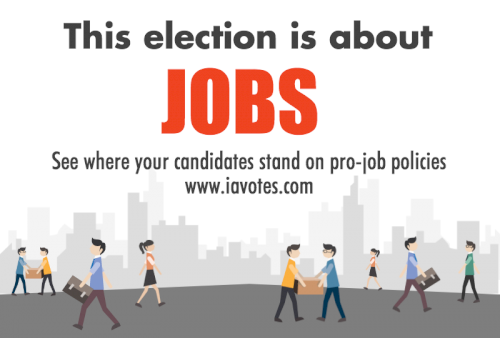 Iowans have five more days to cast ballots in hotly-contested races across the state. The Presidential Election has garnered much of the attention, but our state and local races are just as important. Take time to educate yourself and your employees about the candidates and ballot issues and encourage them to participate. Here are six ways to promote voting at your businesses.
Post reminders about the election in prominent areas at your facility. Hang posters near the busiest entry points and set fliers on the tables in your break room. www.iavotes.com has customized posters that are available to you for free. Click here to download and print a poster.
Send employees an email reminder with valuable candidate info. ABI, with help from BIPAC, has generated a wealth of valuable educational resources to help you and your employees prepare for this election. There's still time this week to send your employees an email explaining why voting is important. In it you can provide links to www.iavotes.com, where employees can find their candidates, find their polling place, and review lawmakers' business voting records. Include the list of candidates who have received ABI's Friend of Iowa Business endorsement.
Provide time off to vote. You can allow your employees to take time during the workday to vote if you choose. Let them know this time is available and explain what they need to do to take advantage of the opportunity - whether it's alerting a supervisor the day before or finding someone to cover their responsibilities for 30 minutes while they run to the polls. Make it as convenient as possible for your employees to cast a ballot.
Promote and recognize participants through social media. Many people today live their lives online, through social media sites like Facebook and Twitter. Meet them there. Place a poster board near your facility's entrance or in the break room and have employees place their "I voted" sticker there. Take photos throughout the day and post them on social media. Better yet, challenge a local competitor to a friendly contest and see who collects the most stickers. Encourage employees to post photos of themselves at their polling places and post them on Twitter or Facebook. (Taking photos of the actual ballot is prohibited.)
Alert them to local freebies and discounts for voters. Many businesses offer discounts or freebies to people who vote on Election Day. Let your employees know of any deals in your area - maybe at your own business!
Lead by example. Your employees look up to and respect you. Show them the importance of voting by casting a ballot yourself.