30 years of leadership in business education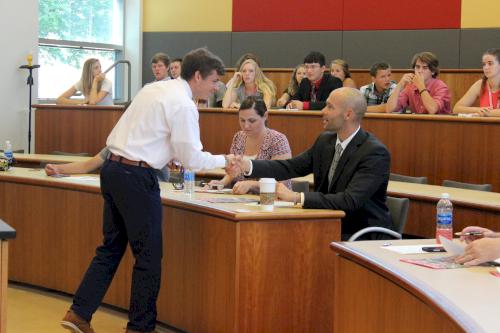 A Business Horizons participant shakes hands with a judge after presenting his company's product.
For more than three decades, the Iowa Association of Business and Industry Foundation has been working with students, educators and business leaders to help introduce Iowa students to the opportunities available to them in the state.
The ABI Foundation has been at the forefront of business education in Iowa since the first Leadership Iowa class traveled the state in 1982. Since then, thousands of high school students, college students and professionals have participated in ABI Foundation programming, learning about themselves and ways to make Iowa a better place to live, work and raise a family.
Last month, the ABI Foundation hosted high school students from across Iowa at Central College in Pella for the annual Business Horizons program. Students who started the week nervous about spending five days surrounded by unfamiliar faces found themselves on day five wishing the program lasted just a little longer.
During their time at Business Horizons, students learned how to work together in teams to accomplish their goals, identified their own strengths, received unique business tours and gained a better understanding of the career opportunities available to them in Iowa.
"Students are influenced by what they know and experience, and Business Horizons is a great opportunity for them to learn from so many different professionals and what they do and the path that led them to their career," longtime volunteer Karen Rieck said.
Meanwhile, the 2016-17 Leadership Iowa University class is gathering over the next week in central Iowa where they'll tour the Capitol, meet legislators and visit a variety of businesses, including Grinnell Mutual Reinsurance, Musco Lighting and Dwolla. Each of the 20 students has their own mentor from their chosen field to provide guidance, advice and encouragement.
Two primary goals of the ABI Foundation are to fill the gap in Iowa's career education for college and high school students and to provide solutions for the state's workforce development needs. However, professional and personal development aren't enough. These future employees are only valuable to Iowa companies and organizations if they understand what is available to them here and choose to pursue careers in Iowa.
Both programs are designed to help students see their place in Iowa as they graduate, begin their careers and establish themselves as leaders in their communities.