Leadership Iowa's value remains long after class ends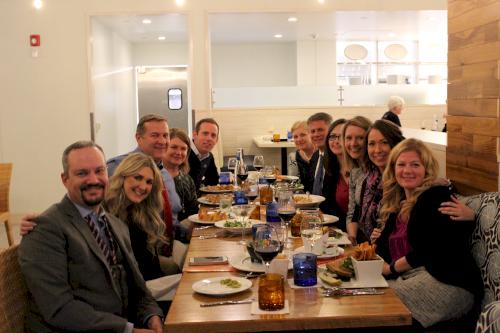 Members of the 2012-13 Leadership Iowa class gathered in January for the annual Leadership Iowa dine-arounds.
Leadership Iowa has provided value far beyond what I could have imagined during my opening session five years ago. I feel very fortunate to have had the opportunity to experience two years of Leadership Iowa — first as a part of the 2012-2013 class, followed by a year as a program co-chair. From the beginning I could feel that I was a part of something larger. To this day I am still realizing what a tremendous resource access to over 1,100 in- credible people can be through my Alumni Society membership.
The magic of the Leadership Iowa alumni network is that we share this very strong and positive Leadership Iowa experience and mindset, which instantly elevates a chance meeting, call for help 
or opportunity for collaboration from a cold call to a conversation with a friend. The openness to meet, the kindness and the support that comes from fellow Leadership Iowa alumni are amazing.
As an Alumni Society member, here are some of the ways I continue to stay engaged with the LI Alumni Network:
Attending a monthly lunch with classmates from my Leadership Iowa years and other alumni events throughout the year.
Serving on the Leadership Iowa Board of Governors and committees.
Participating in professional training classes offered by LI alumni sponsors and members.
Visiting classmates and Leadership Iowa alumni when traveling the state.
Collaborating professionally, hiring different organizations to support work endeavors.
I've become aware of and supported many civic organizations and efforts of Leadership Iowa friends and provided guidance for a new business venture and support to several projects. I even traveled to Italy with Leadership Iowa friends.
My annual Alumni Society dues provide additional benefits to all past participants and allow me to pay it forward by supporting future participants so they can have the same amazing experiences I had.
If your interest has been piqued, here is what you need to do:
If you have not been through Leadership Iowa and are interested, learn more and apply for the program at www.leadershipiowa.com.
If you are a Leadership Iowa graduate and are looking to engage with the LI network, the ABI Foundation is pre- paring to introduce five regional councils that will make Leadership Iowa easier to access in all areas of the state. Watch for more information on the website, Facebook page or Leadership Iowa newsletters.
If you are an engaged graduate, thank you! Please continue to reach out and encourage as many people as possible to be involved with the ABI Foundation programs. As with all relationships, a little intention and nurturing can return big benefit.