Presenting ABI Foundation's Leadership Iowa Class of 2019-20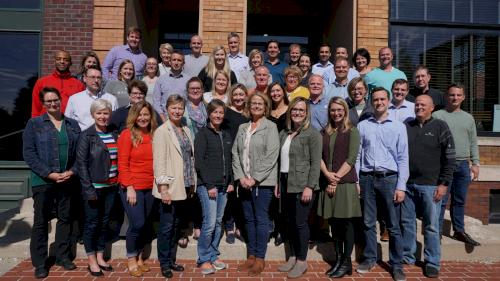 Launching the ABI Foundation's new year of programming, the Leadership Iowa Class of 2019-20 is comprised of 40 outstanding professionals from all across the state and a wide variety of backgrounds.
They will travel to communities throughout the state for a series of two-day sessions from October through June. Each session provides participants with an in-depth, first-hand look at an important issue facing our state by way of discussions with subject-matter experts, interactive experiences, industry tours and more.
Session locations and topics change annually. This year, the class will visit Perry, Iowa Falls, Fort Dodge, Des Moines, Muscatine, Glenwood, Council Bluffs and Waverly. Their year will culminate with the ABI annual conference in Cedar Rapids. This year's session topics include agriculture/renewable resources, education, government, manufacturing, community vitality, economic development and healthcare.
Following these leaders' commencement in June, the ABI Foundation's work continues with the five-day student programs, Business Horizons for high school students taking place at Central College July 19-23 and Leadership Iowa University for college students August 9-13. It is through the investment of these individuals that we can create a continuum of success for future generations.
Join us in congratulating these leaders in creating a legacy in Iowa for growth and innovation!