A Love Story: Meet Iowa couples who've found success in love and business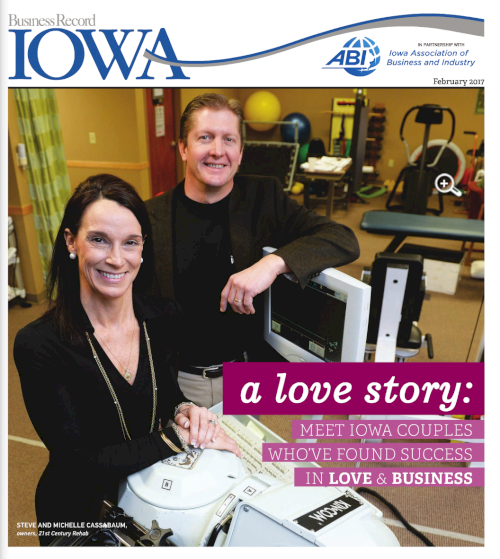 They work side by side most days and have used their marital and professional union to build successful businesses that prosper through each partner's strengths. Here are the stories of three Iowa couples who have found triumph in business, but most importantly love. 
Steve and Michelle Cassabaum, owners of 21st Century Rehab, headquartered in Nevada
The Cassabaums were living in St. Louis in the mid-1990s. Steve was working as a physical therapist, and Michelle was a pharmacist. They wanted to return to Iowa, and devised a plan in which they would start their own business. Steve would work with clients; Michelle would run the business side while she raised their young family. 
"We both came from family-owned businesses," Michelle says. "We both had parents who worked together, so it seemed like a natural thing for us to do." Steve says: "It made sense, and of course, (Michelle) was someone I could trust and not have to worry about things being done wrong."
The Cassabaums started their physical occupational speech therapy and occupational health services business in Iowa in 1995. Michelle was to be in charge of the finances, human resources and marketing; Steve would work as the physical therapist. The two have been married for 25 years.
Eventually, Michelle received her master's degree in health care administration. The business started with two employees and has grown to 75. The Cassabaums have three minor partners who have joined them. 
The Cassabaums say working together has been one of the best things they could have done. Their personalities complement each other: Michelle is strategic, straight forward and practical; Steve is more emotional and the visualizer.
"I always played the devil's advocate. Steve was always gung-ho and ready to try anything," Michelle says. "I think we were really good at balancing each other." 
Steve says: "I'm the idea person, and she brings it down to earth and looks at it from the practical perspective."
Being spouses and business partners also gives an added element of trust because they know the other will do what is best for the practice and its employees, Steve says.
One challenge, they say, to owning a business with your spouse is when the business conversation creeps into home life.
"The big thing was we didn't know when to turn it off," Michelle says. "It isn't 8 to 5. All of a sudden, you're sitting at home at dinner, and it turns to business talk. … It's impossible not to (talk about work at home). It's just part of who we are. Usually when one of us says, 'OK, that's enough,' then we turn it off."
Steve says the couple has been rewarded by the long hours they've put in, but sometimes there have been rocky roads at work when they've had to compromise to come to an agreement.
Because of their duties, the Cassabaums don't see each other during the workday except for a couple of days a week. Michelle works in the business office, while Steve sees clients in the clinic Mondays, Wednesdays and Fridays.
They conduct business the other two days of the week.
"Having the separation is good, but there are times I wish he was here more often because I have something I would like to bounce off of him," Michelle says.
Communication is key when being in business together, as is making sure one does not take things personally, Michelle says.
"You have to make sure you don't make it personal when everyone else is in the room," she says.
"Over the years, we've learned to communicate in a different way at work than you would at home."
Bob and Sharman Wersen, owners of Tassel Ridge Winery in Leighton
The Wersens owned extra land they intended to one day use for Bob's other business, Interpower Corp. However, Bob was struggling to find the workforce he needed to expand his company that supplies power system components.
The couple decided to turn the land, which was rotating between corn and beans, into a vineyard in 2002.
"I jokingly say it was temporary insanity," Bob says with a laugh. "But it was a time when crop inputs just didn't justify what you were going to get out of them, and I was afraid it was going to be like that forever. I really wanted to keep the land and I thought, 'Well, we can plant grapes on it.'"
They've enjoyed the business, though Bob admits it's the type of business where every dollar put in sucks more money and more time.
The winery opened for business in May 2006. Sharman oversees the regulatory side of the winery and ensures everything is in compliance with federal laws. She also handles marketing and plans winery events. Bob is the overall strategic planner and oversees sales to retailers in Iowa.
"Our strengths complement one another pretty nicely," Bob says. "That's the good news. The bad news is when you have two people with different strengths, you can really get on each other's nerves pretty easily because we look at the world differently. There's the yin and the yang." 
The couple will have been married 38 years in March. They work about 10 feet apart and converse when needed. Sometimes they just need to decompress with one another; other times they need to think separately.
Bob says the two try to talk out disagreements and come up with a solution. Sharman jokes that Bob wins.
"You have to work really hard to work together and live together at the same time," she says. The winery has consumed almost all of the Wersens' time. Sharman says they might get a break once a year. She says it's a full-time commitment and that being married to Bob meant being a part of his business endeavors.
"I don't think we juggle it," Bob says of their personal and professional lives. "We just do what we need to do for the business, and there's not much time left over for the personal stuff. I wish I could say the very romantic view that we juggle it. If you're going to run a business, especially the wine manufacturing business, it's brutally competitive. It's very challenging. There's nobody sitting out there waiting for our wine. We have to work at it to be successful."
Bob will turn 75 in April and says he has no plans of slowing down because he truly enjoys his work.
"Bob's never going to retire," his wife says.
Eugene and Mary Sukup, Sukup Manufacturing in Sheffield
The Sukups have worked side by side for almost 65 years. They operated a family farm when they were first married in 1952. Mary was a schoolteacher at the country school in Sheffield but still worked alongside Eugene in the hog lot, cleaning out the barn or working in the field. 
Eugene needed a better way to dry his corn and came up with a design to construct an auger that would stir grain, so it could better dry and not overheat and spoil. Thus, Sukup Manufacturing was founded in 1962. Initially, the Sukups worked with the local blacksmith. Eugene has always been the idea man and worked with their three initial employees to design and produce the company's products. Mary served as bookkeeper.
"We've always worked as equals," Eugene says. "Mary has as much say in the company as I do, and that has just worked out real well. That way we discuss it 24 hours a day."
Sukup Manufacturing now sells 1,000 machines of different types including grain bins each year and employs 520 people. The Sukups are proud of their family business. Mary and Eugene still work every morning – their offices are across the hall from each other – but they've transitioned most of the work to sons Charles and Steve, who serve as president and vice president of the company.
"We still go to work every morning and work until noon or 1, and listen to what's going on," Eugene says.
The couple's strengths have meshed well together throughout the years. Mary has always been a dedicated accountant and told Eugene when they were in trouble and when they were doing well. Mary credits Eugene with having an "inventive mind" and being dedicated to selling their product and making a name for their business.
Mary says the couple loves the company's employees and clients and considers them the best part of being in business together. Two of the couple's six grandchildren and three grandchildren- in-law also work for the company.
The couple says they've been able to agree on almost everything with the business, though Eugene jokes that if he'd known how successful the company would have been, he would have stayed a farmer.
"I always enjoyed farming. That was my pride and joy," he says.
One of the advantages of working with your spouse is being able to understand the joys and the difficulties they may have had throughout their day or knowing when there's a problem at work they may be struggling with, Mary says.
The two credit much of their success in love, health and work to their faith and their commitment to God and church. Mary is 83, and Eugene is 85.
"Can you imagine two people who live together for 65 years and start with absolutely nothing, and the Lord has blessed us with all of this and the health we have?" Eugene says.