Business Gurus: To whom do Iowa leaders turn for advice?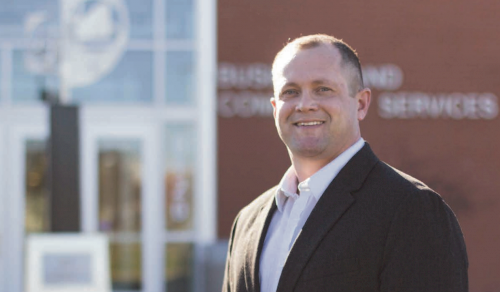 Being in charge of a company or business can mean overseeing employees, filling job positions, managing budgetary information and, in general, having many more responsibilities.
The person in the boss's office is expected to balance all of these things and keep the company on track, but this can lead to questions about how to do all of this effectively and in the best interest of the company.
"Sometimes it's lonely at the top," said Bryan Arzani, co-founder and vice president of The Results Group LLC, a consulting firm that helps business owners and executives with employment development needs. "They don't have a lot of people as a sounding board. They don't have a peer because they're at the top. They don't want to talk to a subordinate because that can cause instability or concerns."
That's why many chief executive officers and business managers from industries such as service, manufacturing, government, nonprofit and more turn to professional consultants and third-party firms to provide them with guidance and advice about how to handle these issues and other concerns.
A professional consultant or business coach can provide CEOs and managers with the clarity they need and educate them about all aspects of business from leadership to financial issues to marketing, said Monte Wyatt, owner of ActionCOACH Business Coaching.
Once an executive or manager utilizes the help of a consultant, the business can have greater focus, which can lead to revenue growth, additional employees or even selling the business for a profit, Wyatt said.
Consultants guide executives, business managers to make decisions, handle issues
Wyatt said executives and managers need to be made aware of opportunities and challenges in order to help their organization, and to ensure that their mission is understood across all levels of the business.
"It starts with me asking a lot of questions that they may not have ever asked themselves or no one has ever asked them," he said.
A business consultant or coach will help an executive create a plan and guide them to implement it and use it for their business. That expert will then hold the executive or manager accountable for the goals and actions they've committed to making.
Wyatt gives his clients a 90-day action plan to follow and stays connected with them throughout the 90-day period and afterward to ensure they're making progress and taking action. He works with the CEOs or owners of about 22 fast-growing businesses and helps provide them with strategy about the future growth of their companies, how to engage their teams and employees, and ways the companies can operate more efficiently.
"Their sales are growing, but their inside effectiveness may not be growing as fast as the outside," he explained. "My goal is to teach them to be the best CEO and business owner possible, and give them new habits and skill sets for them or the organization."
Employee development, retention questions drive need for professional help
The successful growth of a company can mean the need to hire additional employees. To meet those demands, executives and business managers must ensure that they hire qualified employees with the skills and the personalities needed to perform their duties, know how to retain those employees and create a company culture that makes employees feel valued. Or the company may be in the opposite position and need to trim its work- force in order to operate more efficiently.
Arzani said an employee development consultant can assist a business manager in knowing whether an employee will fit within the organization and then provide them with the necessary tools to be successful.
One of the areas where Arzani's company assists businesses is helping them decide which employees to hire and training their technical employees to have the capacity to work in a client-interaction role. The Results Group helps determine the employee's behavior, their drive, how they process information and how their personality plays into their role as an employee.
Through consulting services such as this, executives and managers – The Results Group's clients include businesses in the oil and gas, insurance, financial, heavy construction and distribution industries – can learn whether an employee is wired to interact with clients rather than throwing that person into a position where they are destined to fail. The bosses are able to understand the personality of the employee and the skill sets that best suit them rather than forcing them to be something they are not, and then providing the employee with the training that is necessary to place them into the appropriate position.
An employee development consultant also helps executives identify potential leaders and how to train them, how to position employees into the best roles for the talents they possess, and how to give employees the training they need in order to be more successful, Arzani said.
Des Moines Area Community College's Business resources program works with businesses, various manufacturing industries, information technology companies, government agencies and nonprofit organizations in 22 Iowa counties to find talented employees by providing necessary technical training.
For example, if a larger manufacturing company like Vermeer Corp. in Pella needs trained welders, DMACC's Business Resources program (DBR) will assist the company in finding prospective employees and giving them the technical training they need to do the job, said Kim Didier, executive director of the program.
DBR also provides leadership and management skills for executives and managers.
"We help them train and make the business as a whole more successful," Didier said.
The program assists with "lean manufacturing" in which it helps manufacturing companies find ways they can operate more efficiently through examining processes, workloads for employees and machinery, various aspects of their operations, the number of product defects and more.
Small to midsize companies need the help of an outside consultant, Didier said, because they need to devote their attention to increasing the bottom line.
"Through organizations like ours, you can find that subject matter expertise that will help you go to the next level," she said.
Programs focus on midsize businesses to create peer support groups
The University of Northern Iowa's Advance Iowa program serves midsize companies between 10 and 100 employees located mostly in central and eastern Iowa.
"Our whole concept is there are quite a few services and resources for startups – folks who are just getting started – and on the other hand of the spectrum are the larger companies who can afford to do whatever they want to," said Dan Beenken, the program manager for Advance Iowa, which falls under UNI's Center for Business Growth and Innovation. "Those companies in the middle are kind of squeezed a little bit. They also happen to be the largest subset that provides jobs in the state."
He said the success of these midsize businesses is vital to Iowa's economy, especially rural Iowa, because they can employ most of the people within a community.
The success of a business is often why the owner needs outside assistance. many times the owner of a smaller or mid-size company is the founder and started the business as the only employee.
Before they know it, "they've grown to the point where they're not doing the work, but they're managing everyone else who is," Beenken said. "That's a completely different skill set than they started with. All of a sudden, they're facing completely different challenges than they did in the beginning. ... We're trying to help that person with what we call the 'loneliness at the Top' feeling."
He said when business owners have a major decision to make, they may consult their spouse, a good friend or a professional acquaintance, but the advice they receive may not be exactly what they need because it's not from an equal.
"Oftentimes, he feels very lonely in terms of people who can relate to situation he's in and offer really robust advice," Beenken said.
This is where groups such as Advance Iowa step in to provide assistance. Most consulting firms start with a strategic needs assessment of the business to find out its history and its future goals: Where does the company plan to be in five years? Have the owners and managers considered this?
"Sometimes that in and of itself, asking questions, really opens their eyes to some things," Beenken said.
Advance Iowa offers services in five major areas:
Chief executive officer roundtables, where business owners and managers can meet with peers throughout Iowa to talk with colleagues who are also running businesses and have similar concerns or have handled similar situations. Issues that are raised are revisited during the next month's roundtable, so business managers are held accountable as to whether they've put the changes in place or taken action on the issue.
Strategic planning about how to look toward the future and the company's bottom line, rather than measuring the company's current checking and bank account balances. Companies need to consider whether they're making more money year after year, if the business is truly growing, or if they're just treading water, as well as their strengths, weaknesses and opportunities as a business.
Succession planning to ensure that business owners have a plan for the future of their company and their employees should the owner get sick and can no longer manage the business or die prematurely.
Financial benchmarking and financial-based consulting work to help business owners and managers learn their key metrics, whether they're operating as efficiently as they can, and, if they're losing money, what can be done to stop this.
Market intelligence research so business owners can learn how they compare to their competitors and the industry.