Education's Impact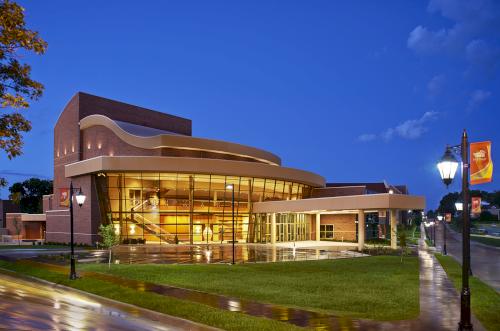 The University of Dubuque has undergone more than $250 million in new construction and renovations that have made it a focal point of the city.
Northeast Iowa's educational institutions have played a key role in the growth and redevelopment of Dubuque and northeast Iowa over the past two-plus decades. The area has a multitude of higher educational institutions that have proved to be integral partners with area businesses, and the area continues to grow. These institutes of learning not only develop the workforce of tomorrow, they provide important ongoing learning opportunities for current employers and employees and have reinvested millions of dollars in the community and region.
University of Dubque's impact likely tops $130 million
The University of Dubuque (UD) has grown dramatically over the past 20 years after implementing a plan for transformation in 1996 to address enrollment and financial challenges. Since then, the university has more than quadrupled in size — growing from approximately 550 students in 1996 to 2,300 students from 43 states and 22 countries.
In that same time period, the University of Dubuque invested more than $250 million in new construction and renovations. The south campus and University Drive have become a focal point for those traveling U.S. Highway 20 through the city.
Calculating the economic impact UD has had on the city of Dubuque can be somewhat difficult. However, an economic multiplier formula developed by the University of California at Santa Cruz can provide some clarity. The formula found that every dollar spent by the university is returned 2.5 times to the community. For UD, with a budget of $52 million, that means an economic impact of approximately $130 million, not including new construction or renovation projects on campus, said Tom Hogan, senior director for university relations at UD.
"With the investments made to the campus over the last 20 years, estimates on the economic impact could quite possibly reach $200 million," Hogan said.
Northeast Iowa Community College contributes to essential worker pipeline
Dubuque could not have made the recovery it has without a qualified workforce in place to help fill the jobs available at growing businesses. Northeast Iowa Community College (NICC) has been a strong partner when it comes to the area's economic development growth by providing training and retraining for thousands of area workers.
In 2016, NICC provided courses and educational options for nearly 30,000 students — from high school students getting a head start on college credits and workers seeking a new career path to real estate brokers looking to renew their licenses.
The community college, which celebrated its 50th anniversary last year, works closely with businesses to help ensure students receive the right training for the jobs employers need them to fill. NICC also provides training and upscaling for current employees.
Some of the most in-demand career tracks are manufacturing, health and information technology, said Wendy Mihm-Herold, vice president of business and community solutions at NICC.
"We have great relationships with businesses and work with them constantly to make sure we have the programs in place to meet their needs and help make certain our students and our area companies can be successful," Mihm-Herold said.