Educators Become the Educated in Local Workplaces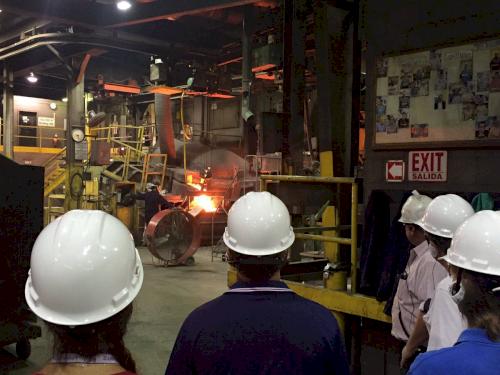 Elevate Advanced Manufacturing partnered with Iowa community colleges to offer educators from across Iowa a four-day program this summer focused on changing the perception of advanced manufacturing and preparing students of all age levels with the skills they need to succeed in the workplace of tomorrow.
The Educators in the Workplace program brings businesses and core student mentors together to showcase the needs of a skilled workforce. These businesses emphasized the importance of building overall 21st-century skills, like critical thinking, math and problem solving in addition to so-called soft skills such as dependability, communication and teamwork. It was a natural partnership for Elevate, a statewide campaign to promote careers and education in advanced manufacturing.
Alexandra Monaghan, Elevate program coordinator, said the real goal is to create a community where students, educators and mentors have access to the kinds of skills and information they need to enter, or help others enter, into the workforce and options for different educational paths for future careers.
"The programs we have are arming students with the information they need for the future," Monaghan said. "We want to be a resource for them and let people know that the manufacturing industry has changed."
Kelly Mitchell, the DMACC Business Solutions Coordinator, noted that both middle school and high school teachers participated in this immersive program by visiting Pella Corp., Vermeer, Lely, Pella Regional Hospital and Weiler Manufacturing as well as attending guest speaker presentations with representatives from 3M, Health Enterprises, Musco Lighting and Pella Cooperative Electric.
Karen Swanson, director of high school programs at Indian Hills Community College, said the educators were exposed to the large variety of local employment opportunities and the need for a skilled workforce, especially students who are interested in a career involving advanced manufacturing.
"We collaborated with the economic development group Opportunity Squared and business and industry to make this a great professional development opportunity for educators," Swanson said. The workshop schedules boasted themes like employment opportunities, workplace readiness and continuous improvement.
Educators remarked that the program provided useful and relevant information to bring back to their classrooms and skills to identify and incorporate students' passions into the "real world."