Industry leaders flying under the radar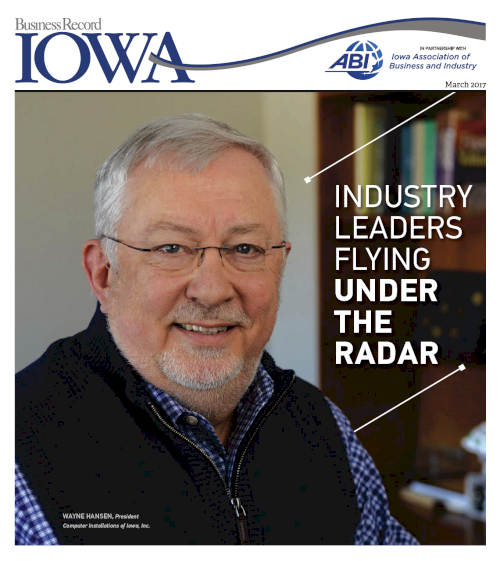 Some of the most successful companies in Iowa excel at what they do but often choose to be a silent partner that remains behind the scenes.
"It's not about us; it's about the client making the right decision and helping them execute," says Brandon Foldes, whose uncle started Bluestone Project Solutions, a project management company headquartered in Johnston that does business in 40 states. Foldes has been on board since 2005 and is now the chief executive officer.
Bluestone has evolved from its early days as a real estate planning and project management firm in 2004 to a full-service approach that now includes a strategic planning process, design conception and construction to full project execution from start to finish. This gives Bluestone more options to offer to businesses of all sizes, Foldes says.
Zane Muntz, chief creative officer, says the company developed its wide-scale approach so clients could have one point of contact and see Bluestone as their trusted adviser. The com- pany's third owner is Steve Reynolds, who serves as the chief operating officer.
"We want to become that constant piece of communication throughout the project," Muntz says. "The owner isn't focused on the project. Their attention is on doing business.
"Our services really aren't unique," he continues. "It's the way we package our services to come together to what, in my opinion, is going to lead the industry."
Bluestone's from-start-to-finish model is unique to the Des Moines and Columbus, Ohio, markets, cities that the company considers its home markets.
"We see ourselves being on the front end and the innovators in how projects are being led," Muntz says.
While the company is known among the real estate and development industries, it intentionally stays behind the scenes. It doesn't have flashy signs at projects advertising its name. Most of its growth and advertising is done through word of mouth and customer referrals. Employees are asked to be ambassadors to the community and get involved and engaged in ways that allow them to develop relationships.
Bluestone has served as the project manager for Nationwide Insurance's large Des Moines offices and its offices in other locations. Other clients include Life Care Services, Food Bank of Iowa, On With Life, Pigott, Des Moines Electrical Apprenticeship Training Center and a relocation of Mercy Health Network's corporate office in Des Moines.
"There's a really strong correlation for (our client) and their success and being able to be that silent leader," Muntz says. "I think if we were out there trying to promote ourselves, I don't think our clients would see us in the same way. Our focus is on having strong relationships and word of mouth. That's been a really awesome way for us to grow, and in my opinion, it's the best way for a company to grow."
Bluestone is currently rebranding the company to SHYFT Collective to bring attention to the "why" of the client's needs and the company's unique set of team members with a variety of talents that come together for projects, Foldes says.
Walk into most large commercial office buildings in down- town Des Moines, and CI3 (Control Installations of Iowa Inc.) is hard at work. The company is behind the scenes to operate and manage aspects of building systems technology and security.
"You don't see the work we do," says President Wayne Han- sen, who founded CI3 in 1983. Since that time, he has acquired other companies to expand his services and created an ESOP to prepare for future retirement from the business. "It's above the ceilings, below the floors, in the walls. It's behind the scenes because you don't see our work except for a few sensors on the wall or a camera in the corner, but there might be millions of dollars' worth of equipment in the building."
CI3 plans, installs and services highly technical systems that are used to control a company's office building or campus. These systems include automated building control, security systems, video systems, lighting and life safety. CI3 has developed its own software and applications for different security and control systems.
For example, CI3 is in charge of the automatic doors when one walks into an office building. The security software at the check-in station was likely written by the company. The turnstile through which an individual walks is operated by the company, as are the security cameras. The company also is responsible for the heating and cooling comfort of the building, and ensuring energy efficiency is followed.
CI3 is responsible for seeing that individuals only go to areas where they have approved access.
"Everybody has a different security level, and we help with that to get the correct people in the correct places and make sure they don't go where they're not supposed to go," Hansen says.
CI3 has installed the security for 13 casinos in Iowa and surrounding states. The company has more than 700 active clients that include the health care, banking, insurance, technology, manufacturing, government and education industries.
Hansen says he has expanded the company from just him- self to 130 employees through relationship building. CI3 has a 95 percent retention rate among its customers.
"For the type of work we do, advertising does not do a lot for us," he says. "It's very specialized, and you have to prove what you do."
CI3 was able to secure a large energy-savings project for the University of Iowa campus and get in with a large Des Moines insurance company 20 years ago that paved the way for its security work. Hansen describes both projects as steppingstones for the company that helped build its credibility.
Kuder Inc. of Adel plays a worldwide role in helping students decide what career they might be interested in, from supporting classroom curriculum to providing professional development. The company takes a comprehensive approach to career assessment and development.
"We help people discover and achieve what they want to be," says Bethney Ahrendsen, executive vice president for communications for Kuder, a career guidance solutions provider.
The company's assessments are based on Dr. Frederic Kuder's research that dates back to 1938. More than 1 million people worldwide used his Kuder Preference Record as a career guidance tool from the 1950s to 2000. Phil Harrington, Kuder's president and chief executive officer, acquired the rights to the Kuder name and its research in 1997.
Harrington has taken the company from a paper-based entity into the digital age. The company's growth occurred in steps starting with surveys of school counselors from across the United States. Harrington wanted to know what resources they needed to advance career development in their schools and to prepare students by using a research-based method.
Ahrendsen says it was quickly determined the system needed to be online. It has grown into an information source that includes the ability to take assessments; explore careers and majors, and learn about the colleges and technical schools that offer them; share an e-portfolio; and create a resume.
"Starting from a mere paper assessment, the capabilities and how everything is interconnected to make that career plan, has grown so much over the years," Ahrendsen says.
Ahrendsen says the Kuder name is fairly familiar in education, specifically the career and technical area, but will likely take off in Iowa this year. The Iowa Department of Education selected one of Kuder's programs as the state's designated career information and decision-making system. School districts will use the program to ensure their students meet state career and technical education standards.
"It will grow with the endorsement," Ahrendsen says.
The company already has worldwide reach. It's helped more than 155 million across the globe from Singapore and Australia to Portugal and the Middle East. Ahrendsen says the company's worldview is to help individuals find their career passion but to also bridge the economic development divides between countries and help countries prepare their workforce to compete in a global economy.
Kuder has programs for the earliest school child to adults, but most of its work is within secondary education, Ahrendsen says. Iowa schools might use Kuder's curriculum to develop a careers course for students or use the company's online tools for students to take career assessments. This might include clusters of occupations the student is suited for based on a career interest, an assessment of the student's skills to generate a career cluster, or a work values assessment so students can learn whether they will like and enjoy their selected career. School counselors use Kuder's tools in one-on-one guidance sessions with students as they advise about colleges and a career path. Students also can use Kuder's tools to create a course outline for each year of middle and high school to meet graduation requirements and to prepare for a major.
Ahrendsen says that all of Kuder's tools and programs are research-based, and that the company's tools are a consistent resource for school districts and users from the start of their education until they're finished.
"As you're working through your educational life and into a career, you can have one consistent resource to guide along the way," she says.