Partners in Education: Working together to address Iowa's workforce challenge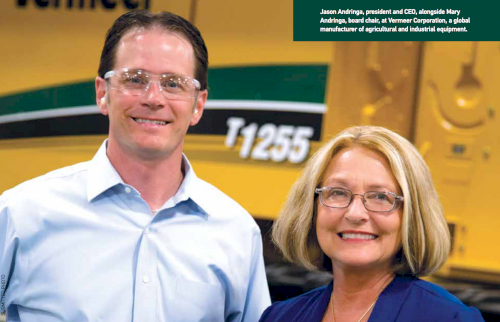 Iowa's business community and educational institutions have created new relationships and partnerships to ensure students and workers have the training and skills necessary to fill high-demand jobs in the state.
The relationships have been mutually beneficial. Educators have received feedback on their training programs and are developing programs to meet specific job needs, while businesses receive employees who are prepared and well trained for jobs and get the help they need filling high-demand positions.
Rob Denson, president of Des Moines Area Community College, said a partnership with Accumold in Ankeny helped boost the college's tool and die-making program and give the company the employees it needed.
"Our program has been essentially full since then," Denson said. 
Awareness is the biggest key to filling some of these high demand positions, especially within manufacturing.
Vermeer Corp. in Pella does this through school fieldtrips and job shadowing, said Mary Andringa, the company's board of directors' chair. Vermeer manufactures construction, mining, forestry and agricultural equipment. 
The company hosts Manufacturing Day for all sixth-graders and interested high schoolers. Students tour the plant and learn about manufacturing careers through hands-on activities that involve computer-aided design, robotics and more. About 700 students from 10 schools attended last year.
"This really does open up a lot of eyes for young people," Andringa said.
So much so, that at the beginning of the day, 34 percent were interested in a career in manufacturing. By the end, 69 percent were interested. 
"That's a pretty good change in perception once we got them to see what are all of the things involved with manufacturing," Andringa said.
For the past decade, teachers from a 70-mile radius have come to Vermeer for a three-week paid internship to learn about manufacturing and what the company does.
"That really helps our teachers understand what are the skills needed in today's advanced manufacturing," she said. "There are good jobs in manufacturing, and it's not leaving the United States. Often these are the teachers who bring their students to Manufacturing Day, or they'll invite people from Vermeer to come to the classes."
Advanced manufacturing is being promoted statewide through the Elevate Advanced Manufacturing marketing campaign, which is designed to bring awareness to the careers and educational opportunities in the industry. This includes creating a positive perception of these careers and addressing misconceptions about the work environment, safety and wages.
Lori Schaefer-Weaton, president of Agri-Industrial Plastics in Fairfield, said Elevate also has helped bring attention to the students who are not interested in a four-year educational degree. She said some of these students may find an interest in computers or robotics or other areas of manufacturing.
Awareness also is key in the insurance realm, said Barb Baker, the director of advertising and community relations for Grinnell Mutual Reinsurance. Many students don't realize the wide range of jobs available, she said, that include the legal department, information technology, sales, marketing and advertising, underwriting, claims, investigations, loss control, and building and grounds.
"We really want to expose Grinnell Mutual as a very viable place to work, and we want to support students who may have an interest or may want to explore what options are available in insurance," Baker said. "We know insurance is one of the biggest employers in the state of Iowa, but students and even their parents don't always know what types of opportunities are available at an insurance agency."


State leaders look to the future, set goals for trained workforce
Iowa Gov. Terry Branstad and Lt. Gov. Kim Reynolds last October set a goal for 70 percent of Iowa's workforce to have education or training beyond high school. 
Their goal was based on feedback from state travels in which the two have heard from Iowa businesspeople there are not enough workers to fill jobs, and from the findings of a report from the Georgetown University Center on Education and the Workforce that projected Iowa would add 612,000 jobs through 2025 and that 68 percent of those jobs would require postsecondary education and training beyond high school. Iowa ranked 18th among states in the country for postsecondary training and education at the time the report was released.
According to the Lumina Foundation, an independent and private foundation that works to increase the number of Americans with higher education training and skills, only 47 percent of Iowans currently have a postsecondary degree or training beyond high school. Future Ready Iowa was launched to address this gap.
"We are doing this to make sure students and workers have the career opportunities they deserve, and business and industry can hire enough of the skilled workers they need to innovation and grow," said Linda Fandel, the governor's special assistant for education.
Elected, business and educational leaders have met across the state since the formation of Future Ready Iowa to address the skills gap. More than 800 Iowans came together for an April summit.
State officials will work the next year to create a plan of action based on the summit results, Fandel said. State leaders also want to build upon STEM (Science, Technology, Engineering and Mathematics) BEST (Business Engaging Students and Teachers) to create more collaborations between schools and business and industry to further the opportunities Iowa's students have to learn about these types of jobs and receive the skills to perform them. 
This includes opportunities like those at Rock Valley High School, which operates Rocket Manufacturing. Students there operate all aspects of the business from marketing to bookkeeping, and work as a subcontractor to local businesses by supplying machine parts and tools.
The Future Ready Iowa Portal will launch in 2017. It will be an online site that shows Iowans the high demand jobs in the state and the career pathways – the training, degrees and skills needed – to attain those jobs. It also will include information about financial aid and where to seek training.
"We know a higher share of jobs are going to require postsecondary skills, and we want to help more Iowans get those credentials to get those jobs," Fandel said.
These high-demand jobs include those in information technology, actuaries, personal financial advisers, information security analysts, diagnostic medical sonographers and nursing instructors/teachers, according to Iowa Workforce Development.
Many Iowa companies have cited IT-related positions as their biggest need.
"It has the greatest demand right now. We've created an IT partnership working with all of the major companies in central Iowa," Denson with DMACC said.


Businesses start reaching out to youth early in their educational career
The business community has discovered the importance of reaching students as early as middle school to shape their perceptions early on.
Agri-Industrial Plastics has worked with the Fairfield school district on Project Lead the Way, which provides students with more access to engineering and STEM classes.
Schaefer-Weaton, president of the company, knew it was important to bring this program to Fairfield to address the need of engineers for the area's manufacturing companies. Students within the school district also are introduced to engineering at the middle school level.
Students at the high school level can receive college credit through a career academy in which they learn about finance, industrial maintenance or health occupations. Some students have received certificates in industrial maintenance that have allowed them to go straight into a job after high school graduation, she said.
"We've had amazing stories come out of there," Schaefer-Weaton said, 
At Grinnell Mutual, the company developed an internship for high school students in which they receive dual college and high school credit. Students are able to select an area of interest within the company but also are assigned areas to explore.
Northeast Iowa Community College has partnerships at the high school level with career academies in areas such as welding, health careers, computer science, diesel/auto, construction and advanced manufacturing. The idea is to direct students toward careers in the trades or industrial-type jobs, said Wendy Mihm-Herold, vice president of business and community solutions at NICC.
More than 150 students have completed the career academy. The programs, including the Computer Numerical Control (CNC) pathway, allow students to receive the skills they need to go straight on to work after high school.
Educators find ways to create new opportunities for students
Business instructor Dale Zevenbergen has taken the idea of expanding Dordt College's internship program on the road. The college has had a strong internship program for decades, but Zevenbergen and others at Dordt are trying to show students there's a range of job opportunities available to them in areas they might not have considered such as manufacturing.
"A lot want to be in banking and finance, but they don't know about opportunities in manufacturing," said Zevenbergen, who oversees the business and accounting internship program. 
Zevenbergen has visited nine cities where the college's alumni live and work in order to create new relationships that could expand the internship program.
The visits serve two purposes: first, to create a connection between the college and business as a way to find new summer internship opportunities for students, as well as placement for graduates; second, to ensure Dordt instructors are providing students with the skills and knowledge they need to be prepared for the workforce.
Zevenbergen said one-third to one-half of students who take an internship turn it into a full-time job.
"Companies see it as a great training process rather than a half-day interview," he said of the internship program. "It's great to have the whole summer or the whole semester."
Hagie Manufacturing Co., a farm equipment supplier in Clarion, uses its internship program to determine whether a student will be a good fit for the company. About 50 percent are retained and hired for positions after graduation, said Dave Maxheimer, the company's human resources director.
The company provides job shadowing opportunities for middle and high school students, as well, and allows them to see the equipment and the modeling used to produce the final product.
"We're one of the few companies that will talk to pre-college students and let them come in," Maxheimer said. "You can job shadow any position in the company. If you want to see if you can weld, we'll let them suit up and weld. These (kids) are the future, and so many people are afraid to let them have a chance." 
Community colleges bring their auto body, tooling, maintenance and welding classes to the facility to learn, as well, he said.
The University of Iowa's Tippie College of Business has taken a different approach in its relationship with business. 
The college has formatted its offerings to cover a variety of business skills employees need to know such as accounting, finance and business management. Recently, the college created a course specific to Van Meter Inc., an industrial and electrical supply company, to help employees learn to become project leaders through a management skills program. The college also offers other leadership courses in areas of human resources, conflict resolution, decision making and more. 
"The goal is so these people who only have an AA degree or may not even have a college degree can enroll in these custom programs to get better skills," said Alex Taylor, associate director of the executive master of business administration programs at Tippie.


Colleges, universities launch programs specifically designed to fill high-demand jobs
Dordt also will launch a professional and technical program in fall 2017, called Pro-Tech, that will give students an opportunity to earn a two-year associate of science degree in manufacturing technology and farm operations and management.
Dordt will partner with more than a dozen Iowa businesses through the program. Students will receive a paid internship beginning with the first semester. The program is designed so that students will find a pathway to a high-demand job after they graduate.
DMACC has created more than 160 programs that are focused on the jobs opportunities that are available in central Iowa, Denson said. For example, the college worked with Vermeer to establish its welding program. Another company needed painters and worked with DMACC to create a liquid paint program.
"No. 1, we want to make sure companies in Iowa have the skilled workforce they need, and number two, anybody who wants a job, we want them to have the skills to take those good jobs," he said.
Vermeer's relationship with DMACC and Indian Hills Community College has helped it fill positions in welding, machining and painting certifications. 
"It really helps us mitigate some of the issues manufacturing has with not being able to find the right people with the right skills to hire," Andringa said.