Q/A with Kellan Longenecker, General Mills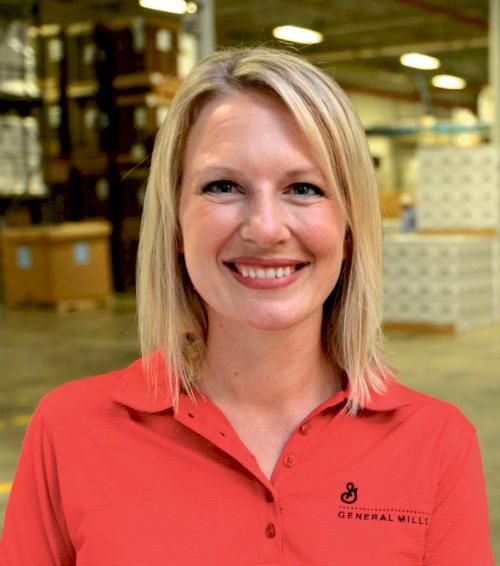 As part of ABI's Women in Manufacturing feature, we conducted Q/A's with women who've pursued careers in this important industry and are helping introduce younger generations to manufacturing.
NAME: Kellan Longenecker
COMPANY: General Mills
TITLE: Avon, Iowa Plant Site Manager
YEARS IN MANUFACTURING: 15
Q. How did you first get involved in manufacturing and what attracted you to the industry?
A, Manufacturing is a unique environment where people and equipment come together to create or transform materials and ingredients into exceptional products. I chose manufacturing due to the diversity of available career options and the limitless possibilities. It was a field that would allow me solve problems and be a part of the creation of a product. I wanted to see the "How It's Made" TV show every day on the manufacturing floor. Within manufacturing, I get to exercise decision making, critical thinking, communication, and teamwork skills every day to make high quality products that people love! There are hundreds of great Iowa manufacturers that produce purposeful products we use every day. As an industry, we improve the quality of life for people. Look around, the items that are in your office, your pantry, your car, or your home were produced by a manufacturer. One of the main reasons that I elected to pursue General Mills as my employer is because we make FOOD! Everyone can relate somehow. It's exciting and energizing to be able to work within the breadth of the supply chain from field to table. 
Q. What do you enjoy most about your job and working in manufacturing?
A. There are many aspects of my job that I enjoy but a few items rise to the top. First, the industry of manufacturing is flexible, adaptable, and constantly changing. No two days are exactly the same. Manufacturers know that to be successful we need to continuously improve the existing ways of doing things. There is a culture of never being satisfied with the status quo. Innovation and technology improvements enable change, which is part of the variety within the manufacturing setting.
The creation of a product is an important aspect that I appreciate about my job. Many Iowans are aware of the magnitude and scale of General Mills, but fewer Iowans associate the plants located in Cedar Rapids and Carlisle as key contributors to their household pantries or eating occasions with products like Cheerios, Betty Crocker dessert mixes, and flour used in their favorite products from La Mie Bakery or Scratch Cupcakery! The list of commonly used items created and produced in Iowa is extensive and would impress most people.
Lastly, and most importantly, I enjoy the hard-working, creative, and dedicated people that I cross paths with in manufacturing. Whether you are a supplier to our products, a customer of our kitchens, or an employee in our plants – we all work together to bring a product to life for our consumers. 
Q. How have you seen perceptions of the manufacturing industry change over time?
A. Over the last several years increasing attention has been given to the manufacturing segment, especially since it is a leading economy driver and our industry is oftentimes challenged by a workforce shortage. It's no secret that manufacturers are focused on changing perceptions by highlighting how far advanced manufacturing has come from the old stereotypes. Automation, technology and robotics have dramatically shifted the work within the walls of a manufacturing plant. Repetitive and rote aspects of a job have been reduced, giving rise to the importance of troubleshooting, decision making, and a focus on much more value added responsibilities. Social media, TV hosts political figures, marketing, and partnerships have all played a role in highlighting the long-term career opportunities of roles in manufacturing. 
Q. How have perceptions of women in manufacturing changed over time?
A. There has certainly been a positive change in the perceptions of women in manufacturing. Senior leaders, female advocates, academia and communities all recognize the importance of increasing the percentage of women in manufacturing. Schools are recognizing how they can actively engage young women (or men) to consider possibilities in manufacturing by encouraging students to be curious about how things are made and intrigued by solving problems. The leading companies are improving visibility of key women manufacturing leaders as role models. They are adapting to the needs of balancing family and job requirements, and finding ways to mentor and sponsor women within the manufacturing field. With less than a third of the workforce made up of women, there's still more work to be done.
Q. How do you encourage the next generation, particularly girls, to consider careers in manufacturing?
A. There's no shortage of opportunities to get involved. Some of the most rewarding moments I've had with young girls or high school students have been in mentorship relationships or simply having a conversation. I've personally enjoyed speaking to high school students, conducting science and engineering experiments with students during conferences, becoming an Elevate Ambassador, advocating for ways to close the skills gap, and serving on boards promoting advanced manufacturing.