Reviving Main Street: How rural Iowa stays relevant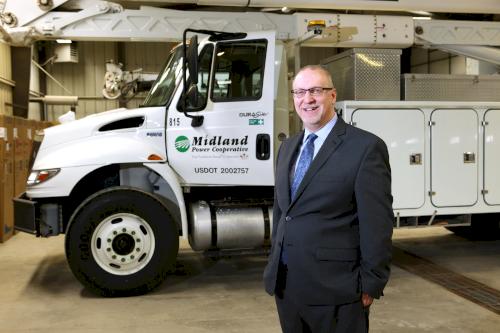 Bill McKim, Midland Power Cooperative
Progressive, innovative and forward-thinking are characteristics commonly used to describe Iowa's small towns that are vibrant and thriving.
Jefferson, Charles City and Le Mars are three of these smaller communities that have taken a holistic approach to ensuring they have a strong future.
They are drawing new residents and keeping existing ones through strong business and community development programs. They are focused on industrial retention, recruitment and entrepreneurship, along with community betterment and quality of life improvements that provide better access to education and health care.
"To be successful in business development today, we believe you also have to be very focused on community development," said Rand Fisher, president of Iowa Area Development Group. "We recognized a long time ago that people aren't going to create and invest in jobs in communities that aren't attractive."
It starts with leadership, planning and coordinating that looks at the entire community to address the three biggest challenges Iowa's communities face: attracting population, providing a vibrant workforce and providing ample housing.
"All three of these communities know they are up against challenges and need to be strongly focused on population attraction and workforce preparedness and readiness and making sure they have the range of housing stock that accommodates new citizens and the existing population," Fisher said.
JEFFERSON
Jefferson is described as the "quintessential rural Iowa town." It has all of the amenities of a small town, and is a good place to raise children and where neighbors know one another.
That's part of the reason Chris Deal moved back to his hometown to raise his family. He works for a company based in Des Moines but is involved in his family's fourth-generation apple orchard.
"Jefferson is a community with a lot of momentum right now," he says. "The community is just wonderful. The people are great. People are hardworking. The people are innovative. We love being here and having kids here. That's probably what the businesses see. They see the support. When you're in a small community, everybody is rooting for you. They want you to succeed."
The business community is thriving: A new casino and Hy-Vee grocery store have opened and brought hundreds of jobs to the community. Other manufacturing businesses are strong, and the downtown area is home to mom and pop businesses that have opened in historic buildings. Other longtime small businesses have stayed open through transition of ownership.
"It brings those amenities and quality of life things that people want," said Bill McKim, chief executive officer and general manager of Midland Power Cooperative, located in Jefferson. The casino "really demonstrated people in the community saying, 'We can make that happen.' "
The casino meant the addition of amenities such as concerts and a new hotel that provide for nighttime entertainment, which has been great for businesses such as McKim's when they bring clients to the community.
Fisher said Jefferson leaders have done a good job of creating a holistic solution rather than looking for a silver bullet to address an issue.
Leaders have addressed how to make the entire community attractive through restoration and beautification, strong infrastructure and improvements, and a strong school system, as well as workforce attraction and population growth through Community 360, a campaign to capitalize on the community's uniqueness, looking at how to market it and how to get millennials to move to Jefferson, said Peg Raney, director of Jefferson Matters Mainstreet.
The hospital recently completed a major renovation and addition that brought state-of-the-art medical care for inpatients, emergency services, surgical care, long-term care facilities, women's services, access to specialists and senior living care.
Like other smaller communities, Jefferson leaders are working to address the issue of providing affordable housing. There is a city employee dedicated to working on infill housing projects, while others are trying to attract new housing development.
"A systematic approach of how to address each of these issues is a good approach," McKim said.
Jefferson and Greene County officials are working to publicize local gems – the Mahanay Bell Tower, historical furniture maker RVP 1875, rooftop and alley art, Thomas Jefferson Gardens and Deal's Orchard – to draw more to the community.
"We are definitely trying to gain some ground on tourism," says Jacque Andrew, the former community relations director for Greene County Medical Center. "We have a number of really great tourism attractions, and we're trying to unify them as a force to bring people to the community."
The bell tower will receive additional bells this year. The renovation of downtown buildings will begin in May, and more rooftop art will be installed that is viewable from an observation tower.
"When you invite somebody into your home, they get a sense of what your family is like and what you value," Raney said. "That's what we've tried to do is really focus on the beauty and tie in historic preservation."
LE MARS
Le Mars leaders have worked diligently to become more than just the "Ice Cream Capital of the World."
The community's hospital recently underwent a $25 million expansion. A former bank building was purchased and turned into a performance arts theater by The Browns, a family whose musical performances have gained popularity throughout the Mid - west. Le Mars' Alley Art project has led to paintings on nine alleys in the downtown, and almost 40 buildings have murals painted on their exterior.
Le Mars has a strong industrial base and em - ploys more than 4,000 within the community at a variety of companies.
"It's a cooperative spirit here in the community … that provides a very business-friendly environment," said Neal Adler, executive director of the Le Mars Area Chamber of Commerce.
Le Mars' downtown boasts vibrancy through a number of rehabilitation projects. There is an array of opportunities for shopping, dining and entertainment with very few vacancies in the business area, Adler said.
The city is home to Wells Enterprises Inc., which makes Blues Bunny ice cream products. The Wells family loves the community, which is why the company has remained in Le Mars since 1913, says Kristin Koch, a corporate communications specialist with Wells Enterprises.
"We have a great working relationship with city facilities and the Chamber group," she says. "We're both in it to make sure the community succeeds and grows."
The community of about 10,000 hosts dozens of community events including the popular Ice Cream Days and the Plymouth County Fair, which is the second-largest county fair in the state.
Businesses and city leaders have worked together to ensure Le Mars has the amenities it needs to remain attractive to companies and residents. One of the areas currently being addressed is additional housing options.
Wells employs 2,300, and Koch says the company would like to see more housing in the form of single-family homes for first-time homeowners or condominiums to help those who have a daily com - mute to the facility.
The region has low unemployment. Companies compete for the same pool of workers, which makes it more important to keep Le Mars attractive for individuals who are looking for jobs and a place to call home, she says.
Construction will soon begin on a 30-unit apartment complex with attached six-plexes that will help fill some of the void with rental properties, but there is still a need for single-family housing in the $130,000 to $175,000 range, Adler said.
Le Mars leaders also have thoughtfully planned sites for industrial readiness, and thus have been prepared to accommodate businesses that have come to the city. The city has dry and cold storage, trucking companies, a short-line railroad, a trans - load facility and a Foreign-Trade Zone that other Iowa communities do not have, Adler said.
CHARLES CITY
The community of about 7,600 in Floyd County is innovative and looking for ways to give residents and others the opportunities and amenities they want.
"That's one of the things that's important in order to remain viable," said Justin DeVore, the communication and community engagement officer for the Charles City School District. "We look toward the future. We try to stay on top of things. We try to stay on top of what we need from a community standpoint in order to continue to be innovative and vibrant and viable for people to continue to choose to live here and work here and grow their business here."
Currently, a group is trying to form a municipal utility to provide internet, television and phone services.
"We know that in order to be a relevant community, we have to be able to deliver things that people are expecting in a modern, 21st-century community, and right now that's high-speed broadband at an affordable rate," DeVore said.
The community opened a new middle school last fall that throws out the old ideas of what a school should look like with individual classrooms for separate subjects and created learning studios. Visitors to the school are wowed by what they see, and community leaders use the building as a showcase when trying to sell Charles City.
Tim Fox, executive director of the Charles City Area Development Corp., said the community is well maintained and has good infrastructure and several amenities such as its whitewater course that make it attractive.
Visitors also are impressed by the city's local art collection that features works by Picasso, Salvador Dali, Grant Wood and Rembrandt.
"It's one of those collections that people say, 'I can't believe you have this in your town,' "said Ginger Williams, marketing and tourism coordinator for the Charles City Chamber of Commerce.
The whitewater kayak course was the first of its kind in Iowa and draws visitors from all across Iowa and the United States.
"We have a lot of things to do that people aren't aware of or expect to do in a community of our size," Williams said.
The area, however, is struggling when it comes to housing and workforce – both in the number of people and in providing them with the skill set needed to do the job. More than 200 people travel into Charles City from a nearby community to work, signaling a lack of housing.
There have been improvements, Fox said.
As recently as 2010, the community's unemployment rate was 65.3 percent above the state average. Since that time, it's gotten more in line with and even below the state average. The opening of several new companies and the expansion of others has helped bring hundreds of jobs to the city. The school district's population has been stagnant and even declined, but leaders hope these new manufacturing businesses will lead to more children.